Description
The 5G Low pass filter is designed to remove interference caused by new 5G and LTE signals. This allows you to enjoy a more stable viewing experience on your TV.

Features of our LTE 5G filter
✔ EASY INSTALLATION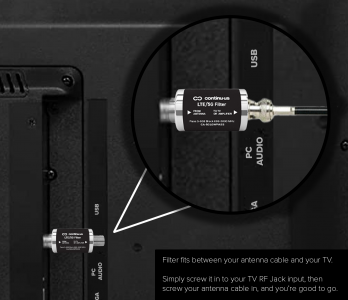 This really is plug and play, simply screw it into the RF jack of your TV or antenna, and it is connected and ready to go.
✔ PICTURE PERFECT
Filter out unwanted frequencies and signal noise that pixelate your television image, with this simple solution you won't be left feeling frustrated any longer.
✔ PREMIUM CONSTRUCTION
We only use the best, professional, state-of-the-art materials to ensure it runs smoothly with no issues.
✔ IMPROVES SIGNAL INSTANTLY
Don't sweat, in 5 seconds you can transform your entertainment experience with guaranteed clarity, an instant improvement and upgrade.
✔ MONEY BACK GUARANTEE
Backed by the Continu.us 90-day warranty. Our friendly technical support team is based in the USA and always on hand to help should you need it. A phone call or email away, they can answer any question you might have.
Click here to learn more.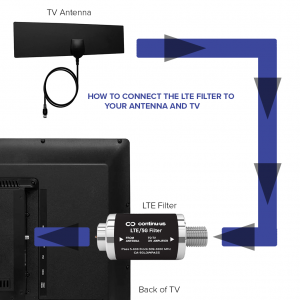 Click here to view on Amazon