Description
Indoor 4K TV Antenna | Continu.us – CA-300, Slim, Lightweight, Long Range, Digital HDTV Antenna – 1080p, 4K, VHF, UHF, 10ft Coax Cord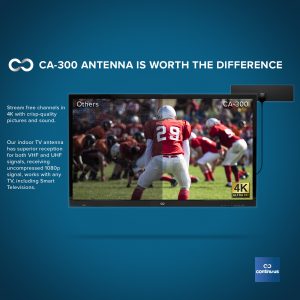 Features of THE CA-300
✔ 4K Signal
Stream free channels in 4K with crisp-quality pictures and sound. Our indoor TV antenna has superior reception for both VHF and UHF signals, receiving uncompressed 1080p signal, works with any TV, including Smart Televisions.
✔ Cord Cutting
Never pay for cable again. ditch expensive cable bills, this antenna picks up over-the-air channels like ABC, NBC, CBS, Fox and more! And the best part is? IT'S ALL FREE!
✔ Multiple Mount Options
This thin light-weighted antenna can be stuck on the wall, window, table or hidden at your desired position.
✔ City Use
Ideal for city use, the CA-300 is a bi-directional antenna and can pick the strongest signal up from both sides.
✔ Small, Sleek Design
The small, sleek design of this antenna means it can easily fit into your room. The lightweight antenna means you can easily pin it behind your TV, or wherever the signal is best.

Check out the spec sheet here.